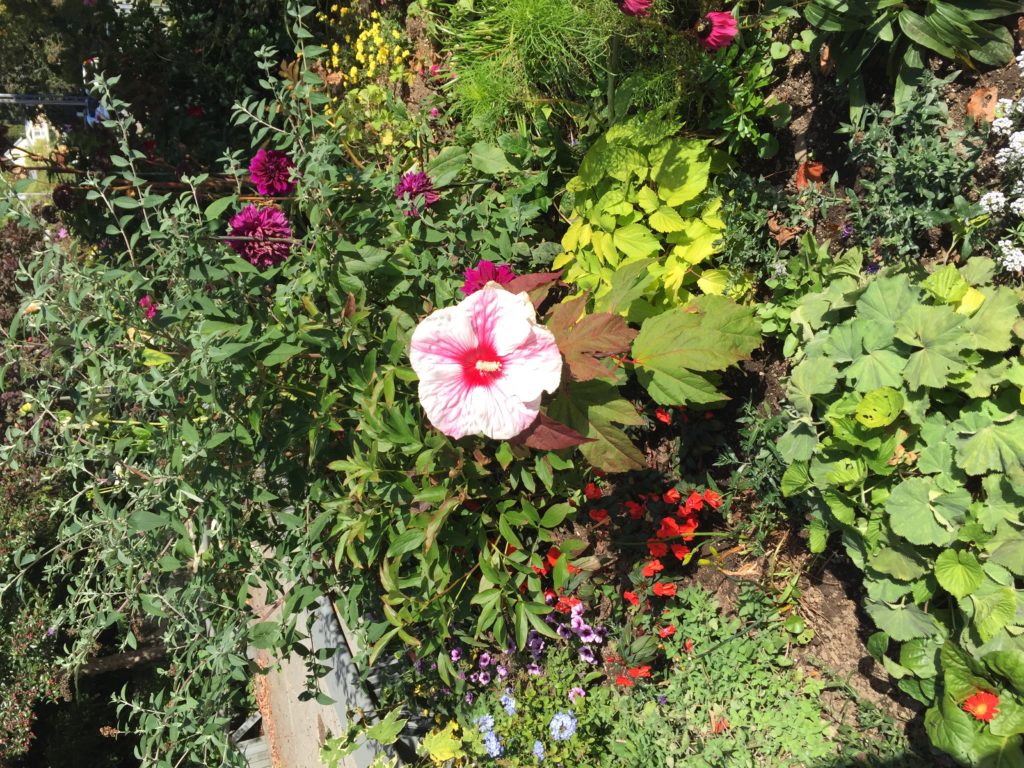 "Your task is not to seek for love, but merely to seek and find all the barriers within yourself that you have built against it." Rumi
Love and understanding are not things we are born with. They are the result of how we use our minds and how we practice. We can choose to train our minds to truly love by understanding ourselves and others. Or we can allow our stories and habit energies to make us feel separate, alone and in need of defending ourselves.
As infants we probably fell in love with whoever took care of us. That love was born from our need to be taken care of. But this desire to be taken care of can result in a near enemy of love, an unhealthy clinging. When we are clinging, we're not standing on our own two feet. Clinging is not loving. It is holding on to someone. The person we hold on may not find our clinging pleasant. Think of a three-year-old clinging to you. Because we live in a want-to-have world, we interpret love as getting. But that's not love, because love is the will to give.
When we love someone, we don't feel like we possess them. And we don't feel entitled to all of their attention. When we love someone, we want to bring them joy and reduce their suffering. We can learn to nourish our ability to love.
One way is through loving kindness meditation. My start with loving kindness meditation was with difficult people. I found that I could wish happiness for difficult people because I know that happy people don't treat others badly. The goodwill I was sending did not necessarily have warmth or kindness. But it did open my heart a little as I saw the difficult people were being difficult because they were suffering in some way. That resulted in the difficult people not feeling so difficult. I didn't take it so personally.
Next, I started sending loving kindness to my mother as she was on her journey with dementia. I found that making up my own wishes felt less mechanical. So, I used words like: May you be safe and free from harm, infection and falls. My you have strength, energy and vitality in your body. May you be peaceful and at ease. May you be happy. While I did not need metta to cultivate the feeling of love for my mom as she was, I did need to cultivate love for my mom with dementia. I was clinging to the mother before dementia.
My mind went sour, resenting the fact that my mom had dementia. Each time I drove to Chicago, I would pray that she would be having a good day. I wanted to visit my mom as I knew her all my life, not the mom with dementia. Doing loving kindness meditation for my mom was not enough to sweeten my mind.
Sylvia Bornstein says, "It is really unfortunate that the mind often responds unwisely when dealing with our nearest and dearest, but it does make sense. There are various reasons why. First, fear arises with our significant other because we are afraid of not getting what we want. Anger arises as well because the other person is perceived as the enemy who is not giving us what we want. Then, greed arises in the form of needing to be comforted by the person we depend upon to be our life-long companion-except that this person is now also perceived enemy!" I was afraid of losing my mom, angry at her for getting dementia, and greedy to have more time with her as she was.
But true love doesn't foster clinging. It is generated from within. In order to truly love someone, you need to feel complete in yourself. Love is not looking for someone to complete you. Thich Nhat Hanh says, "True love is like the sun, shining with its own light, and offering that light to everyone."
Loving kindness meditation can help us to develop a selfless love. It does so by developing the quality of 'loving-acceptance'. Loving kindness meditation acts like self-psychotherapy, a way of releasing our troubled mind from its pain and confusion. It has the immediate benefit of sweetening and changing old habituated negative patterns of mind. But that only happens if we do loving-kindness meditation for ourselves.
Luckily around this time I started my teacher training and learned the importance of doing loving kindness for myself. So, I began to develop care toward myself. One of the keys to caring for ourselves, is to change where we are looking for happiness. We learn to quit trying to control the uncontrollable, and instead learn how to be open to whatever is happening. That meant accepting, even when my mother thought she was away at college, and was sad because her mother had not come to visit her. Accepting, even when my mother made me uncomfortable because she kept asking me to take her home and I didn't know how to respond.
Awakening of love is not bound up in things being a certain way. It is not easy to access that place inside of us that can love no matter what. But each of us can nourish our capacity to love by understanding what truly makes us and others happy, and what makes us suffer.
Understanding someone's suffering is the best gift you can give them. Thich Nhat Hanh said, "Understanding is love's other name". If you don't understand, you can't love. When you love someone without understanding their needs you can wound them. To know how to love someone, we have to understand them. To understand, we need to listen.
After I had been practicing loving kindness for myself, it really opened me enough to begin to listen to my mom's needs. She did not need someone abruptly changing the subject, or telling her what was really happening. She needed to be seen and heard. No matter how untrue what she was saying was. She needed to be comforted when she was sad and given hope that her mom would visit soon. As the disease progressed, she did not need to be frustrated by my trying to get a conversation going. She just needed someone to sit with her and hold her hand or stroke her arm.
When you love someone, you want to bring relief and help her to suffer less. This is an art. You can't just impose what you think is needed for her to be happy.
True love also includes accepting the other person as she is now, with all her strengths and weaknesses. Every day we are different, so if we grasp on to our idea of who someone is based on the past, that is not true love. We have to accept them as they are in this moment. If you only like the best things in a person, that is not love. You have to accept their weaknesses with patience and understanding. This kind of love brings a feeling of protection and safety.
Mindfulness meditation slows us down so that we can see what is needed for happiness and what causes suffering. When this understanding comes, it helps us to release our fear, our anger, and our hate. True love can only grow on this ground of understanding.
Just wanting to love someone is not enough. We need to start with ourselves and look deeply at our body, our feelings, our perceptions, our thoughts, and our consciousness. When we practice, we observe how much peace, happiness, and lightness we have as well as how much anger, irritation, fear, or anxiety are in us. As we become aware of the feelings in us, our self-understanding will deepen. We see how our fears and lack of peace contribute to our unhappiness. Then we see the value of understanding the ones we love.
So, we being loving-kindness meditation with ourselves, by looking deeply into our bodies. Spend time in sitting meditation just being with your body. It will tell you what it needs.
Next, observe your feelings—are they pleasant, unpleasant, or neutral? Use the pleasant feelings to refresh you and give you strength. Pay attention to the neutral feelings and you may see they are actually pleasant. Think about taking a walk in nature, if you are paying attention, things you don't normally see can bring you much pleasure. Sit with the unpleasant feelings and they lose their power over you. By meditating on your feelings, you become stronger and better able to love yourself and others.
Then meditate on your perceptions. Which wrong perceptions cause you and your loved ones to suffer? When you think you know what your loved one needs ask yourself, "Are you sure?" When you love someone, you have to understand their real needs, not the ones you impose on him or her.
Next, observe your thoughts, the ideas and tendencies that lead you to speak and act as you do. Cultivate the positive thoughts as they provide the strength for true love. Don't feed the negative thoughts, just let them wither.
Finally, look at your consciousness. Your consciousness has seeds of love, compassion, joy, and equanimity. It also has seeds of anger, fear, and anxiety. Use mindfulness to be aware of those seeds. By looking deeply, you will see which seeds need to be transformed, and which seeds need to be nourished.
Here is Sylvia Bornstein's tip for nourishing love when tensions arise: "Say to each other, 'We've wandered into a conflict zone.' This is the first noble truth, that life comes with challenges. Your next phrase could be, 'Let's not make it worse.' This is the second noble truth, that suffering is an inept response to discomfort. After that try saying, 'We usually love each other. We could, right now, reassure each other and then figure out a way to work this out together.' This is the third noble truth, that a clear, wise mind is a possibility. Finally, you could conclude by saying, 'Every time we do this, we'll get better at it.' This is the fourth noble truth, which involves habituating the mind to thoughtful response in place of impulsive reaction."
So, you see that nourishing love is a lifelong practice. The more you practice, the more you see your love grow.